GeoLogics Wins the United Space Alliance SDB Contractor of the Year Award!
GeoLogics won the United Space Alliance's (USA's) "Small Disadvantaged Business (SDB) Contractor of the Year Award" for its contributions to the Space Flight Operations Contract (SFOC) and the space shuttle program. Two specific contributions were cited at the award ceremony by Michael H. Jones, USA's Director of Procurement and Subcontracts:
"GeoLogics developed the Unique Support Program (USP) to retain the knowledge base of proven experts in the aerospace community whose particular skills and expertise were being lost to the community through attrition. Geologics designed this process in conjunction with USA procurement, legal, and business management to identity, select, and quickly provide subject matter expert or technical advisor support."
"GeoLogics was proactive in supporting the STS-107 investigation. Four personnel from GeoLogics Unique Support Program participated on the STS—107 investigation team."
The award was presented by Jones and Michael J. McCulley, President and CEO of USA at the Bay Oaks Country Club in Houston on April 1, 2004. Present to receive the award were Aileen McCall, Manager of GeoLogics' Houston Operations, Dick Brewer, Vice-President of GeoLogics Consulting, and Roberto Lopez-Aparicio, Sr. Vice President and founder of GeoLogics Corporation.
GeoLogics will not forget the courageous crews of Columbia and Challenger. We are committed to support the return to safe flight and human exploration of space for the benefit of all mankind.
GeoLogics has been providing temporary technical and professional personnel to USA since 1996.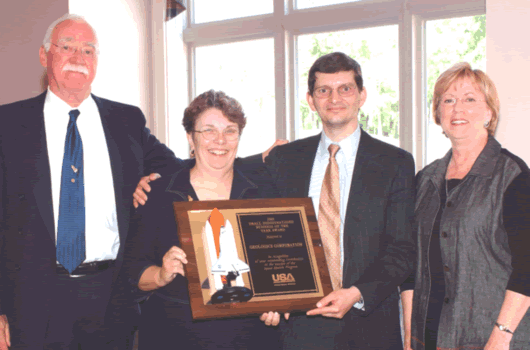 L-R: Dick Brewer, Aileen McCall, Roberto Lopez-Aparicio, Anna Ward (USA).
Photo courtesy USA, LLC.
---
Link to Press Release in pdf format